What is Kids Mode?

Kids Mode is a viewing mode within your account settings that excludes films that may not be appropriate for young children.
It is found within your account settings and can be toggled on or off.
This setting is account-wide when enabled. So, when you enable Kids Mode, content inappropriate for young children will be excluded from all CuriosityStream channels, apps, and devices that utilize your CuriosityStream account.
If you wish to turn on Kids Mode, visit https://app.curiositystream.com/login and select "Your Account" page from the top right corner drop-down menu. On the Account page, scroll to the SETTINGS section ( this will be toward the middle of your Account). You will see an option to "Turn Kids Mode On". Once you click it you will then be prompted to enter your user password to enable the Kids Mode. Be sure your password is kept secret since this is what you need to disable it.

If you wish to disable Kids Mode, simply click on "Turn Kids Mode Off" and enter your user password. After Kids Mode is disabled, you should be able to view all available titles across your account via all devices.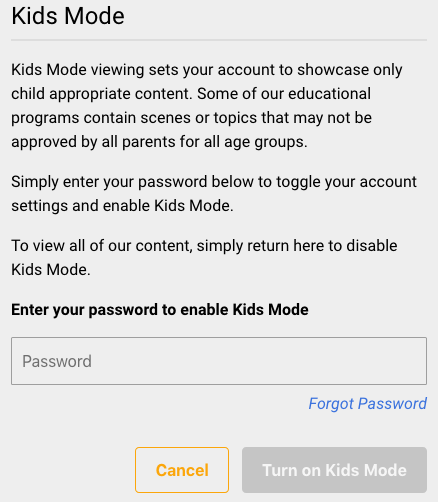 You can count on Kids Mode to not populate content inappropriate for young children from all CuriosityStream channels, apps, and devices that utilize your CuriosityStream account when enabled. If you have enabled Kids Mode on the website version of CuriosityStream, that may be a reason for missing titles across all devices. To view these titles again, be sure to disable the Kids Mode function.
Given the volume and variety of content within our library, and the fact that each subscriber will have different needs for age appropriate content depending on the makeup of their household, we try to restrict as little content as possible from access by all ages.
Kids Mode will filter for:
Visually explicit violence in recreations such as "Ancient Rome: The Rise And Fall Of An Empire"
Factual Content with disturbing imagery such as "Annihilation"
Visually explicit sexual content both in nature and in human interaction such as "Nature's Weirdest Events" "Pleasure And Pain".
Factual content, by its very nature, may include ideas, events, concepts, interviews and some images that will not be appropriate for all younger viewers. Ultimately, adult discretion is advised to help your child select content appropriate to their age and development level.